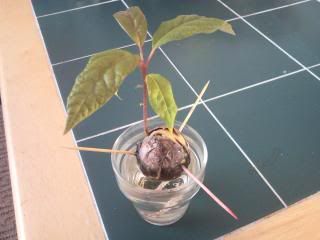 I just had to show you my new avocado plant that I started from the seed. My daughter told me the other day she remembered as a kid that I always had these in the window when she was little but none of them ever grew. I guess they needed to have sunlight and my kitchen back then didn't have a window that had sunlight. So now I can say it does really work, sticking toothpicks into an avocado seed and putting it in water that is.
Just a little fun stuff.
Yesterday I talked about the difference between a short sale and a foreclosure. Today I wanted to touch on downpayments for
buying a new home
. I get asked many times how much you have to have now to buy a home since the mortgage meltdown. Well folks, things haven't changed
that
much. As far as 100% financing, a Veteran's Administration (VA) loan and Rural Development (RD) loan both have programs with no down payments. With a VA loan, you have to be a veteran or a spouse of a veteran with benefits. With an RD loan, you have to meet certain income and location requirements. In other words, RD will not lend in metropolitan areas like Casper, Cheyenne and Laramie, but they will lend in Mills, Evansville and Bar Nunn.
If you don't meet the criteria for either of these programs, then there is the Wyoming Community Development Authority (WCDA) that lends up to 96.5% of the purchase price but if you qualify for their down payment assistance loan, then you can finance all but $1,500 of your down payment and closing costs. This program too, has an income guideline, and you have to not have owned any real estate in the last three years.
If you are one the few that makes TOO much money or you have owned real estate in the last three years, and you are not a Veteran, then you may qualify for a Federal Housing Administration (FHA) loan or a Conventional (FannieMae or FreddieMac) loan. FHA requires that you have a minimum of 3.5% down payment on any property that you buy. With a Conventional loan, they have programs that will only require 3% down if you meet the guidelines. With an FHA or Conventional loan you will be paying mortgage insurance which covers the lender against default. Both of these programs need to be compared by your lender so that you know which one is the better one. Mortgage insurance premiums will vary depending on credit score on a Conventional loan.
So where does one get a down payment?
3.5% of a $150,000 sales price is $5,250. If you haven't already saved this in a savings account, then you need to figure out where it will come from. One of the suggestions would be like a 401K. Most 401K programs will allow you to withdraw from your plan for the purchase of new home or you can borrow against it also. The next option would be to sell an asset like a car. Make sure you document the entire sale so that the lender knows where the money came from. You can also borrow against an asset to get the equity to use towards the down payment. Then finally, would be a gift from a relative or employer. Wherever you get the down payment, you will need to fully document the source for the lender.
Another question I get asked, is
can I finance in the repairs or can I add to the loan for the appliances or furniture?
Yes and no. In order to finance in the repairs, you would need a rehab loan like an
FHA 203K
. If you want to just increase the loan amount to purchase personal property, then no. The loans are based upon sales price. I will get more into that on another day.
For now the
buy of the day
is in Bar Nunn. Only $45,000!!! Three bedroom 2.5 bath 1973 14x66 Mobile Home not on a permanent foundation. There is an attached one car garage and has 2231 sq feet. Some new windows, new furnace and appliances. Fenced yard. Great cash buy. Would make a GREAT rental and I have a renter that is willing to rent it right now for great income potential.
There were 13 new properties listed in the last day, 12 price changes and 4 sold. Take a look at
my website
if you want to look at any of these properties that just came on the market or had price reductions.